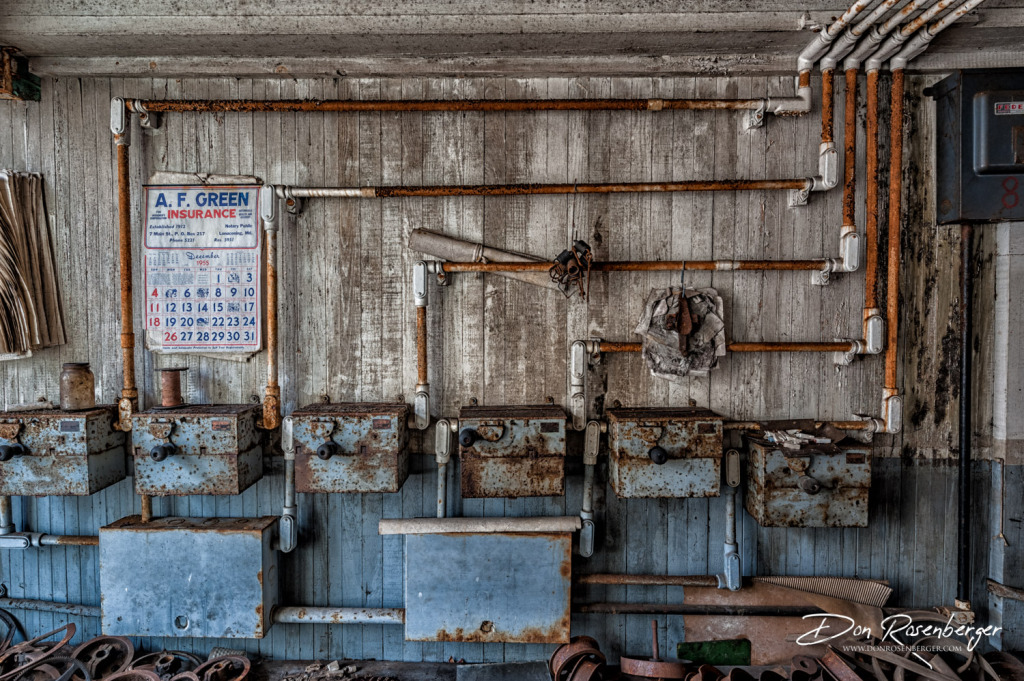 I first heard about the Lonaconing Silk Mill back in 2011 from Arthur Ransome and Chuck Robinson, a couple of photographer friends from Baltimore. They told me of a place frozen in time, a factory that spun raw silk into threads and still had all the equipment from the day it was closed in 1957. So I took a day off work and traveled to the tiny town of Lonaconing, Maryland, in May 2011 and spent a few hours in total amazement. Less than a month later I was back for my second visit. This place was a photographers paradise!
I always referred to the place as the Lonaconing Silk Mill, but actually it was the Klotz Throwing Company the day it closed. At one time it was a major employer, but due to foreign competition and union demands the doors were closed one Friday afternoon in 1957, never to be opened again. You can still see shoes and other belongings that were left behind by the people who worked at the mill. The company that owned the property kept a security guard on site until the mill was eventually purchased by Herb Crawford and a business partner. Herb and his partner were hoping to rent the space to another company and had this worked it would have been a nice investment. However, a deal to rent the mill never materialized and it became more of a burden than an investment.
Herb had offers from a number of people and foundations over the years to help preserve the mill, but once again a deal never happened. The roof was leaking when I first visited in 2011. Each year we just wondered if the roof was one bad winter from being destroyed. Instead of a sudden failure, the roof was in a gradual state of decay. Herb did his best to try and patch the roof from time to time, but any lasting repairs were beyond his physical abilities and resources.
I last visited the mill this past September. The roof had big holes in several places and with the amount of rain we had last year, there was standing water just about everywhere. I had brought a group of photographers and for the first time I thought the condition of the mill had deteriorated to the point where I was not comfortable bringing people into this space. While places like this always have certain hazards, I was starting to think the mill was on the verge of not being safe. At least on the top floor where large holes existed in places where the roof used to be.
Just a couple of days ago I heard that Herb had passed away. I was lucky to have been able to visit the mill a dozen times since 2011. For such a magical location, many of us would be lucky to photograph it once or twice. Visiting the mill so many times was truly a gift and as the years progressed I really came to admire Herb and his dedication to this special place.